History is more than a set of chronological events, but links to the present.
Beirut: Sometimes the pathways between historical events and their current relevance are obscured by a lack of knowledge linking the two, but when these links are understood scientifically and without illusions, humanity has the chance to build a better future.
Museums are a mechanism for achieving this goal, which means that walking through their halls is not just an entertaining visit to see historical objects attractively presented in their appropriate period. To visit a museum is to live the past in the present and to follow these secret paths.
After a visit to the museum, people have keys to build a better future because the present, which becomes the past a second later, is more evident.
Word museums is not new and originally meant a place built for nine muses or the arts on which they managed. The most famous was in 4th century BC Alexandria which included a library, a university research center and a collection of antiquities – a concept eerily similar to modern concepts.
Art museums are a special sub-branch, of more recent origin than artifact collections and defined as "permanent non-profit institution(s), with an essentially educational and aesthetic vocation. They house professional staff who acquire or own works of art and then care for, interpret and exhibit them to the public on a regular schedule" (Encyclopaedia of Aesthetics, 1998, p. 302).
Representing an important part of human civilization, Islamic civilization has its place in the museum world and occupies a large place in art museums. It covers a significant area from Spain to China and includes the chronological range from the 600s to the present day. Following the lifeline of the famous 14th century traveler Ibn Battuta shows this greatness of Islamic civilization and the arts it has produced.
Born in Morocco and employed as a judge in India, the civilization lived by Abu Abhullah Muhammad ibn Battutah still exists and displays an inordinate amount of artistic objects.
"Once you have an incredible collection and enough objects to show, the idea of ​​the museum can be implemented, because you cannot invite people not to see anything," said Anne-Marie Maila Afeiche, Director General of the General Council of Museums, Ministry. of Culture, Lebanon.
Islamic studies scholar Bernard O'Kane echoes his sentiments, saying that Islamic art has more than enough amazing objects to display and "holds a unique place in the drip line of the the history of art".
The world fame of Islamic art
Given its grandeur, Islamic art has a dedicated space in every major museum in the world as well as dedicated museums, including the Museum of Islamic Art, Doha, Qatar and the Lusail museum currently under construction. Also in Doha, it is expected to house the largest collection of Oriental paintings, drawings, photographs, sculptures, rare texts and applied arts.
There are also museums of Islamic art in Cairo, Berlin, Kuala Lumpur, Copenhagen and throughout Turkey, with their growing number of visitors reflecting their success. Since its opening three years ago, the Istanbul-based establishment Great Mosque of Çamlıca housing the Museum of Islamic Civilizations hosted 25 million people.
Other successful examples include the Biennial of Islamic Arts (Jeddah), Al-Faisal Museum of Arab-Islamic Art (Riyadh, Saudi Arabia), a new Islamic art gallery being developed in Salar Jung Museum (Hyderabad, India) and the Iziko Bo Kaap Museum (Cape Town, South Africa).
The last, in collaboration with the South African Foundation for Islamic Art (Safia), launched a new exhibition of Islamic art titled Islamic Art – An African Interpretation, doubling the size of the museum's Islamic art galleries to 560 m2.
However, having Islamic art museums is not limited to studying the historical art of Islam collections. It is necessary to affirm the culture of the Muslim societies that invented these amazing objects – the reason why everything displayed in the museum says: "Look at me. I am your past, you are my present and the next generation is our future.
The 100 largest museums in the world attracted 71 million visitors last year. Humayun's Tomb in Old Delhi (Paul Cochrane).
Historical trajectory of museums
Typically, today's museums are not exact copies of those of yesterday. The first museums were places reserved for the elite. In the 1750s they became public spaces and in the 19th century museums spread throughout Europe and were classified as major art, natural history and science museums.
These developments saw museums take on new roles as social reform and educational institutions for the public, while political leaders saw them as illuminating places to crystallize morals, change behaviors and build the concept of nation.
Afeiche agrees, saying the Lebanese National Museum was built between 1930 and 1937 and opened in 1942 at a time when people were looking for a national identity. The building came to confirm this identity.
The introduction in the 20th century of non-Western perspectives into museums sparked enormous expansion and they became places of pedagogical progress, but not without new challenges. In the 1930s, museums were increasingly linked to school education, bringing its own challenges. A decade later, labels, brochures and lectures were regular features of museums, and in the 1970s museums pioneered new teaching methods, including film and audio exhibits. Research concluded in the 1990s showed that museums not only provided rich education for families, but also direct support for schools. This then gave museum staff a role in national education levels and standards because, according to Afeich, "museums in general tell the story of the country."
Since this history must be accessible and affordable to all, museums could provide appropriate methods to manage the age, cultural backgrounds and income levels of visitors. This role allowed them to establish strong relationships in the social, cultural, political and economic fabrics, so that they became places of representation and interactivity of a particular national culture and history.
"The role of museums as mediators between individuals, societies, nations and communities makes them powerful agents of cultural diplomacy and intercultural dialogue," says Peter Keller, Director General of the International Council of Museums (I COME).
This power authorized museums to enroll in academic fields and to develop their specialization, namely museology or the study of museums, including their history and role in society.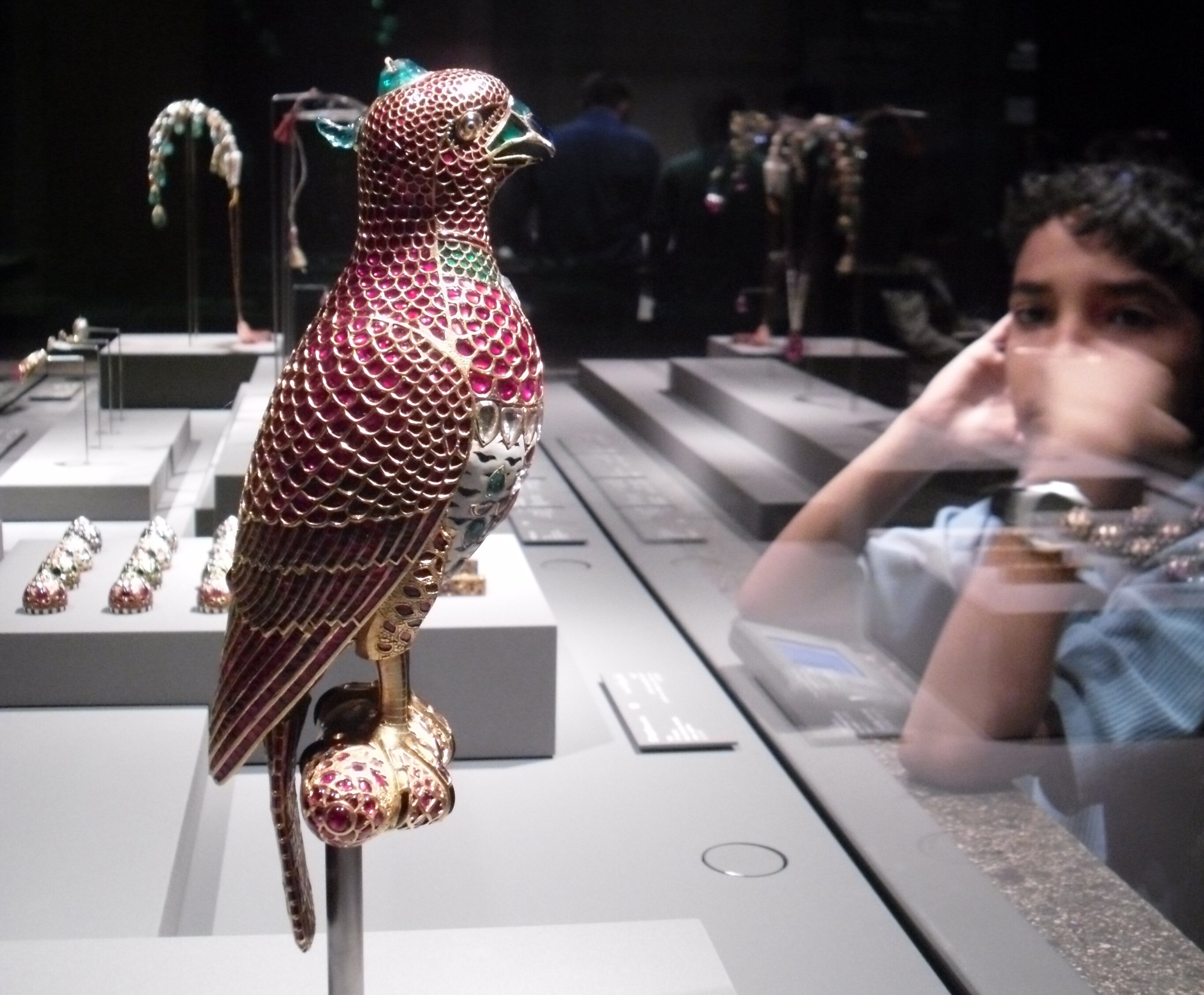 A 17th century jeweled falcon from India in the Museum of Islamic Art, Doha (Paul Cochrane).
Each object tells a story
Museology shows some of the paths linking the past and the present as well as the connection between the different academic fields of art history with ethnology, zoology, architecture and chemistry. These circumstances prompted museums to form ICOM and establish International Museum Day held annually on or around May 18.
"Each object tells the story of those people who lived before us; their rituals, habits, beliefs, norms, ideas, daily lifestyles, social, political and economic structure… The object you see in the museum gives us information about the people who lived there before us" , said Afeiche.
Museums represent a place where sciences can intersect and therefore have a role to play in the country's economy. The obvious intervention is the creation of jobs ranging from professional to non-professional positions with museums requiring the skills of archaeologists, historians, sociologists, interior designers, architects and computer scientists.
They also encourage internal and external tourism. Internally, museums can motivate citizens to move from one to another across the country, effectively stimulating indirect economic activity such as cafes, restaurants, public transport and accommodation.
Afièche cites as an example:
10,000 people attended a night of museums on International Museum Day 2018;

20% of Qataris have visited the Museum of Islamic Art in Doha in one year;

the Great Mosque of Çamlıca has welcomed 25 million people since its opening three years ago;

Egyptian historic sites and museums recorded 2.845 million visitors on International Museum Day 2018, a 20.5% year-on-year increase;

the country's historic sites and museums generated EGP169.02 million ($9.1 million) in revenue in 2018, up 70.5% year-on-year and

Figures from ICOM show that the world's top 100 institutions had a combined total of 71 million visitors last year compared to 54 million in 2020.
Welcome to the world of museums in general and museums of Islamic art in particular because they have the power to be the guardians of our memories.
© SalaamGateway.com 2022. All rights reserved