A rare exhibition is on display at the Georgia Museum of Art in Athens. Indeed, an exhibition of works of art entirely produced by African-American women artists is indeed rare. The Emma Amos: Color Odyssey exhibit is exactly it, and you can see it in person at the museum, as well as on their website until April 25.
Why it's newsworthy: The Emma Amos exhibition is the first all-black women's art exhibition to be shown at UGA. This exhibition is a representation not only of the struggles that black female artists go through to exhibit their work, but also expresses the need for diversity in art museums.
Located at the Georgia Museum of Art in Athens, the exhibition "Emma Amos: Color Odyssey" contributed to the debate on the need for diversity in art museums.
Chad Topaz, professor at Williams College, conducted a study to find the lack of diversity in major art museums. He discovered that in 18 major American museums 85% of the artists who exhibit their works are white and 87% are men.
"Collection diversification efforts could be improved by first quantifying the diversity of American art museum collections, "Topaz said.
The Emma Amos exhibition is the largest exhibition showing the work of a black artist at the University of Georgia, as well as the first exhibition featuring the work of a black woman presented by an UGA curator.
Shawna Harris, curator of African-American art at the museum, explains the importance of Emma Amos' work on display and why she decided to bring it together.
"Her affirmation of the presence of women and their search for equity resonates with her own history as an artist. Through their determination, they created spaces that many contemporary women artists can now occupy, "said Harris.
Many women, especially those who are African American, do not have the opportunity to exhibit their work.
"Important women artists, in general, have been neglected in the history of art. Black women have another cross to bear as the research and exhibitions of individual artists of color often lacks scholarship, "said Harris.
In recent years, the lack of representation has been recognized and it is hoped that many curators will turn their attention to women artists accordingly.
The exhibition represents Amos' work to capture viewers through color, fabric and various media. The intentions Amos had with his art is to recognize people's assumptions about societal norms in order to potentially get them to view life in a broader way.
Jasmine Elphic, a UGA student who recently visited the exhibit, said: "I think it's so important to see art reflect the lives people of color have led in the history of today, the present and the future.
Art has the power to represent what the creator feels and to allow viewers to experience what they are watching in their own way.
"It's such an amazing thing as a young black woman to see someone who looks like you reflected in art, which unfortunately is a luxury that many demographics don't have to think about," said Elphic.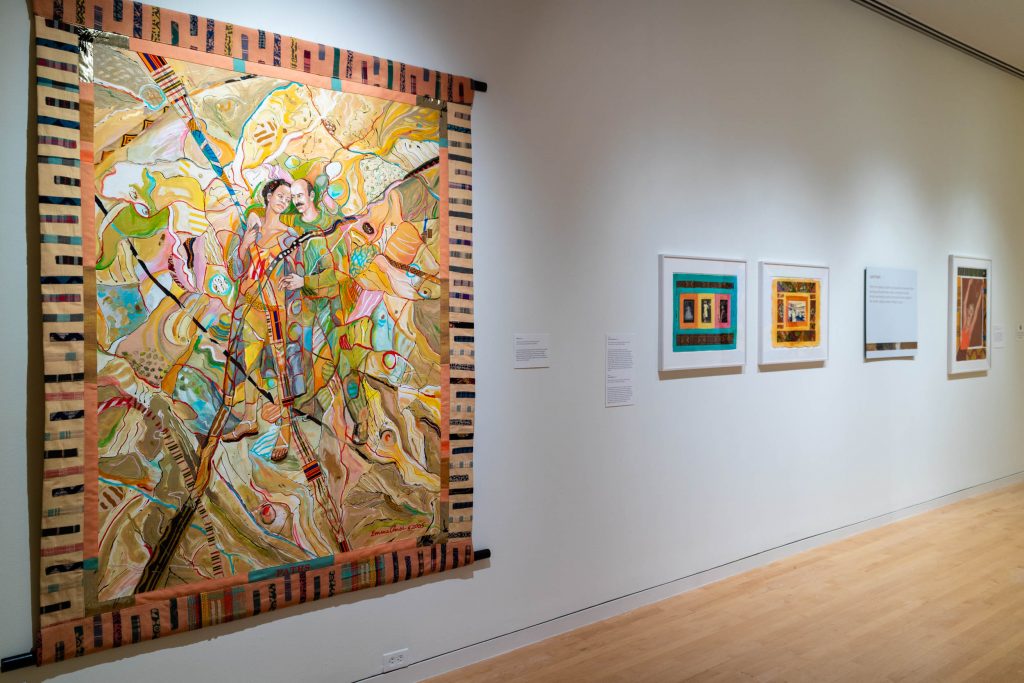 Amos' work has spread through several exhibitions leading to the diversification of artists represented in museums. Some of these exhibits include the "Soul of a Nation: Art in the Age of Black Power" by Tate Modern and "We Wanted a Revolution: Black Radical Women, 1965-85" by Brooklyn Museum.
Harris said Amos originally did not intend his work to fall under the category of black protest art. She later realized the power her images held to counter the divisive politics that surrounded her.
Amos's artwork represents not only the need for diversity in the art world, but also his struggles against racial prejudice as an artist.
Emma Amos' work will be on display at the Georgia Museum of Art until April 25, 2021.
Anna Spinks is in her fourth year majoring in journalism at the Grady College of Journalism and Mass Communication at the University of Georgia.